FOR IMMEDIATE RELEASE
Orthomolecular Medicine News Service, Feb 23, 2020
TONS OF VITAMIN C TO WUHAN
China Using Vitamin C Against COVID
by Andrew W. Saul, Editor-in-Chief
Orthomolecular Medicine News Service
(OMNS February 23, 2020) We can all agree that 50 tons of vitamin C pretty much qualifies as a megadose. We can also likely agree that trucking 50 tons of vitamin C, straight into Wuhan, full in the face of the COVID-19 epidemic, qualifies as news.
The news media are not reporting this, or any other, significantly positive megavitamin news.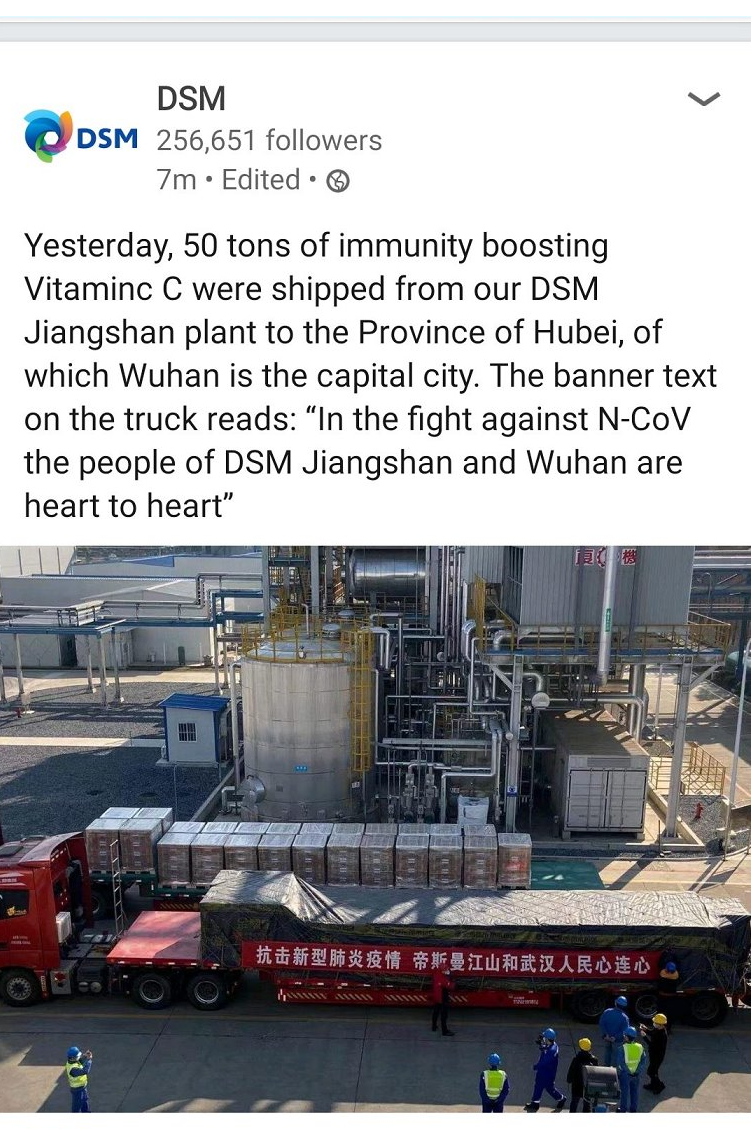 Loving the photo, but needing authentication, I consulted my physician correspondent in China, Richard Cheng, MD. He confirmed it, saying: "This was reported in the Chinese media about 2 weeks ago." Another translator has also independently verified the accuracy of the translation.
DSM, by the way, simply stands for Dutch State Mines, the Netherlands-based parent of DSM Jiangshan Pharmaceutical Co., Ltd. The Chinese division has been recognized as a "China Enterprise with Outstanding Contribution to Social Responsibility." https://www.dsm.com/countrysites/locations/jiangshan/en_us/home.html There is another DSM factory in Scotland, which also manufactures vitamin C.
We are so used to being lied to that the truth is like a diamond in a five-and-dime store: you can't believe it is real because it is mixed in with the fakes. News of nutrition-centered treatment of COVID-19 has been branded "fake news" and "false information." I say that what is "false" and "fake" is the deliberate omission of any news of health-saving, life-saving measures already underway to help the people of China and the rest of our planet. .
Here is more verified but still unreported news of high-dose intravenous vitamin C against COVID-19 in China:
Summary
1) Three repeatedly confirmed vitamin C for COVID-19 research studies are going on in China now. http://orthomolecular.org/resources/omns/v16n12.shtml
2) Confirmation has also been obtained that 50 tons (yes, tons) of vitamin C has been donated by a major C manufacturer and trucked to Wuhan.
3) The concerned public is receiving only "be-scared-until-we-vaccinate-you" news.
4) Sharing information on COVID-19 vitamin therapy research has now been systematically blocked by Facebook and other social media giants.
5) The news media are not reporting on any of this. Therefore, I ask that you take it upon yourselves to do so and share all this with everyone you can.
Nutritional Medicine is Orthomolecular Medicine
Orthomolecular medicine uses safe, effective nutritional therapy to fight illness. For more information: http://www.orthomolecular.org
Find a Doctor
To locate an orthomolecular physician near you: http://orthomolecular.org/resources/omns/v06n09.shtml
The peer-reviewed Orthomolecular Medicine News Service is a non-profit and non-commercial informational resource.
Editorial Review Board:
Ilyès Baghli, M.D. (Algeria)
Ian Brighthope, M.D. (Australia)
Prof. Gilbert Henri Crussol (Spain)
Carolyn Dean, M.D., N.D. (USA)
Damien Downing, M.D. (United Kingdom)
Michael Ellis, M.D. (Australia)
Martin P. Gallagher, M.D., D.C. (USA)
Michael J. Gonzalez, N.M.D., D.Sc., Ph.D. (Puerto Rico)
William B. Grant, Ph.D. (USA)
Tonya S. Heyman, M.D. (USA)
Suzanne Humphries, M.D. (USA)
Ron Hunninghake, M.D. (USA)
Michael Janson, M.D. (USA)
Robert E. Jenkins, D.C. (USA)
Bo H. Jonsson, M.D., Ph.D. (Sweden)
Jeffrey J. Kotulski, D.O. (USA)
Peter H. Lauda, M.D. (Austria)
Thomas Levy, M.D., J.D. (USA)
Homer Lim, M.D. (Philippines)
Stuart Lindsey, Pharm.D. (USA)
Victor A. Marcial-Vega, M.D. (Puerto Rico)
Charles C. Mary, Jr., M.D. (USA)
Mignonne Mary, M.D. (USA)
Jun Matsuyama, M.D., Ph.D. (Japan)
Dave McCarthy, M.D. (USA)
Joseph Mercola, D.O. (USA)
Jorge R. Miranda-Massari, Pharm.D. (Puerto Rico)
Karin Munsterhjelm-Ahumada, M.D. (Finland)
Tahar Naili, M.D. (Algeria)
W. Todd Penberthy, Ph.D. (USA)
Dag Viljen Poleszynski, Ph.D. (Norway)
Datuk Selvam Rengasamy, MBBS (Malaysia)
Jeffrey A. Ruterbusch, D.O. (USA)
Gert E. Schuitemaker, Ph.D. (Netherlands)
Thomas L. Taxman, M.D. (USA)
Jagan Nathan Vamanan, M.D. (India)
Garry Vickar, MD (USA)
Ken Walker, M.D. (Canada)
Anne Zauderer, D.C. (USA)
Andrew W. Saul, Ph.D. (USA), Editor-In-Chief
Editor, Japanese Edition: Atsuo Yanagisawa, M.D., Ph.D. (Japan)
Editor, Chinese Edition: Richard Cheng, M.D., Ph.D. (USA)
Robert G. Smith, Ph.D. (USA), Associate Editor
Helen Saul Case, M.S. (USA), Assistant Editor
Michael S. Stewart, B.Sc.C.S. (USA), Technology Editor
Jason M. Saul, JD (USA), Legal Consultant
Comments and media contact: drsaul@doctoryourself.com OMNS welcomes but is unable to respond to individual reader emails. Reader comments become the property of OMNS and may or may not be used for publication.
Click here to see a web copy of this news release: https://orthomolecular.activehosted.com/p_v.php?l=1&c=139&m=143&s=d185c2708608bef09bdb5476e2a16d33